Cynergy3 IPSAT Intrinsically Safe Pressure Transducer Series
The IPSAT series of intrinsically safe industrial pressure transducers from Cynergy3 utilises piezo-resistive ceramic sensing technology to achieve excellent accuracy (<±0.25% of the full scale BFSL) and a microprocessor based amplifier for stability, making it an ideal device for industrial applications. The IPSAT pressure transducer is available with selection of pressure ratings (between -1 and 400 bar G) and 4-20mA output. Moreover, the sensor features stainless steel housing ensuring excellent media compatibility. Each device comes temperature compensated, calibrated and fully traceable. The IPSAT series of pressure transducers is fully ATEX and IECEx approved, making is suitable for applications in hazardous areas.
Intrinsically safe industrial pressure transducers
ATEX and IECEx approved for use in Zone 2 Hazardous Areas (Ex II 1G Ex ia IIC T4 Ga (Ta - see datasheet))
Piezo-resistive, thick-film, ceramic sensor
Stainless steel housing for excellent media compatibility
Accuracy <±0.25% of the full scale (BFSL)
Operating temperature range (ambient temperature) of -40°C to 75°C
Excellent operational life at over 100x106 cycles
Process connection via 1/4" BSPP male (customisable)
The IPSAT series of intrinsically safe pressure transducers is available in several pressure range options, with further customisation available - speak to our technical sales team to discuss your requirement.

Typical applications for the Cynergy3 IPSAT pressure transducers series include:
Various industrial applications
Applications in Hazardous Areas
The below table gives the full specifications for each resistor model available including the Cynergy3 IPSAT series: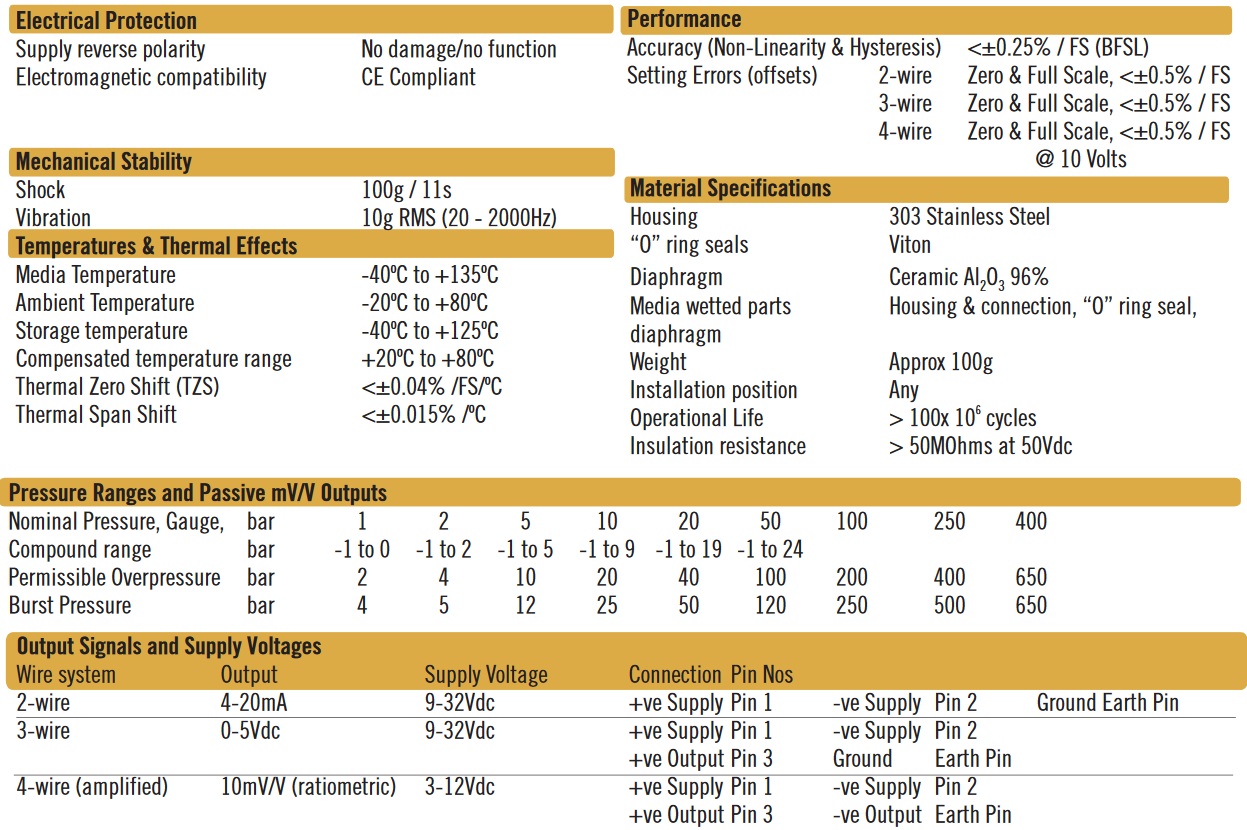 Specifications
Accuracy
<±0.25% FS BFSL
Additional Features

Industrial Pressure Transducer (BSP)
Piezo-resistive ceramic sensor
ATEX and IECEx approved for use in Zone 2 Hazardous Areas (Ex II 1G Ex ia IIC T4 Ga (Ta - see datasheet))
Excellent stability
Excellent stability
Excellent media compatibility

Operating Temperature

-20°C to +75°C Ambient Temperature

Output
4-20mA
Package/Size
Stainless steel housing

Pressure Range

0 to +1 Bar G
0 to +6 Bar G
-1 to +9 Bar G
0 to +10 Bar G
0 to 16 Bar G
-1 to +24 Bar G
0 to 25 Bar G
0 to 40 Bar G
0 to 100 Bar G
0 to 250 Bar G
0 to 400 Bar G

Supply Voltage
10-28Vdc
Below is a part number break down for the Cynergy3 IPS Pressure Transducer series:
We are pleased to provide you with a range of additional content including product datasheets, case studies, white papers and application notes for your reference. Please see below for the latest content available:
This product is available fully compliant to the RoHS EU directive 2011/65/EU.